About Sly James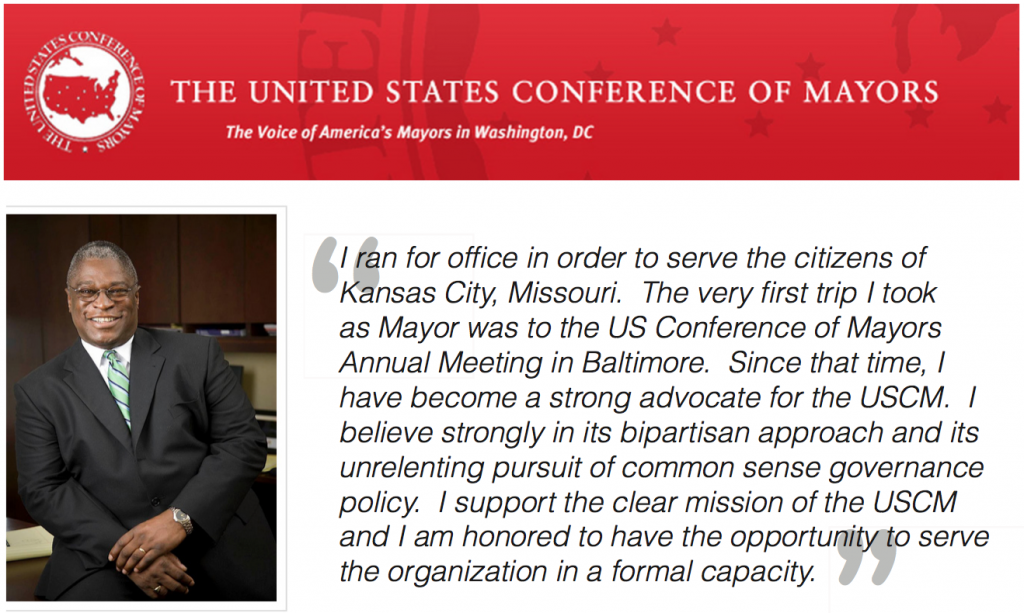 Mayor Sly James was appointed to the Unites States Conference of Mayors Advisory Board on June 24, 2013, at the 81st Annual Meeting in Las Vegas, NV.
The United States Conference of Mayors (USCM) is the official non-partisan organization of cities with populations of 30,000 or more. There are 1,302 such cities in the country today. Each city is represented in the Conference by its chief elected official, the mayor.
The primary roles of The U.S. Conference of Mayors are to:
Promote the development of effective national urban/suburban policy;
Strengthen federal-city relationships;
Ensure that federal policy meets urban needs;
Provide mayors with leadership and management tools; and
Create a forum in which mayors can share ideas and information.
The Conference holds its Winter Meeting each January in Washington, D.C. and an Annual Meeting each June in a different U.S. city. Additional meetings and events are held as directed by the Conference leadership.
For more information on the USCM, click here.
Mayor Sly James was elected on March 22, 2011 and sworn in on May 1, 2011. He was born and raised in Kansas City and learned valuable lessons about resiliency and dedication watching his parents work hard to take care of their family. Despite the challenges they faced, Sly's father, a chef, janitor, and small business owner; and his stepmother, who helped manage their business, still made sure that Sly and his brothers had the opportunity to go to a good school and follow their dreams. This laid the foundation for Mayor James' commitment to education and ensuring every child receives a high-quality education regardless of where they live or their socio-economic background.
Mayor James focuses his efforts to make Kansas City best in 4 areas: Education, Employment, Efficiency, and Enforcement. Major accomplishments from his first years in office include:
Streamlining processes at City Hall to encourage small business development;
Providing safe activities for young people during summer break through Mayor's Nights and Club KC;
Implementing a Women's Empowerment (WE) initiative to help city government work better for the women who work with it and work for it.
Rallying community support around the goal of ensuring every child can read at grade level by third grade;
Creating a culture of innovation in city government through the Chief Innovation Officer and the Challenge Cabinet;
Collaborating with the Kansas City Police Department, Jackson County Prosecutor's Office, the U.S. Attorney's Office, Missouri Board of Probation and Parole, and the University of Missouri-Kansas City to launch KC NoVA, a community-based, multidimensional approach to crime reduction;
Capitalized on major investments in the arts by forming a task force to examine the public's role in arts and culture;
Investing in the City's water and street infrastructure after years of passing the buck;
Starting the road to a downtown streetcar system to continue revitalization efforts; and
Leading efforts for the installation of Google Fiber and promoting Kansas City as the first region in the nation to have such cutting-edge technology.
In addition, Mayor James has worked to raise Kansas City's statewide and national profile by highlighting the myriad cultural and human capital resources in our great city. At the state level, he has been a voice for commonsense gun control laws, economic development tools, and education reform. Nationally, he is a member of Black Mayors for Education Reform, Mayors Against Illegal Guns, and was elected in June 2013 to the Advisory Board of the United States Conference of Mayors. Mayor James also led the city's efforts to host Major League Baseball's All-Star Game in the summer of 2012.
The success of this event, and the spotlight it put on Kansas City, has led to numerous conventions, conferences, and events that continue to open the eyes of many crowds to all that the city has to offer.
Prior to his election, Mayor James enjoyed a successful legal career which spanned almost three decades. He developed a proven record of success as a leader, an effective coalition builder, and a fierce advocate. He joined Blackwell, Sanders, Matheny, Weary & Lombardi in 1983, and became the first African-American partner in the firm's history in 1990. In February, 2002, he started his own successful small business, The Sly James Firm, where he worked with victims to seek justice and positive outcomes to disputes.
The mayor attended Bishop Hogan High School in Kansas City, graduating in 1969. After serving his country as a military police officer for four years in California, the Philippines, and Japan during the Vietnam War, Mayor James graduated cum laude from Rockhurst College. He then went on to earn his law degree, also cum laude, from the University of Minnesota in 1983.
Mayor James has been married to Licia Clifton-James since 1981 and is the proud father of four children. He has long had a passion for music and was the lead singer in the Amelia Earhart Memorial Flying Band. Little known fact: his band once opened for Jefferson Airplane in Kansas City!