The Administration
| | |
| --- | --- |
| City Manager | Troy Schulte |
| Aviation Department | Pat Klein |
| City Auditor's Office | Douglas Jones |
| City Clerk's Office | Marilyn Sanders |
| City Planning and Development | Jeffrey Williams |
| Convention and Entertainment Facilities | Oscar McGaskey |
| Finance | Randy Landes |
| Fire | Paul Berardi |
| General Services | Earnest Rouse |
| Health | Dr. Rex Archer |
| Human Relations | Philip Yelder |
| Human Resources | Gary O'Bannon |
| Information Technology | Mary Miller |
| Law | Cecilia Abbott |
| Neighborhood and Housing Services | John Wood |
| Parks and Recreation | Mark McHenry |
| Police | Chief Richard Smith |
| Public Works | Sherri McIntyre |
| Water Services | Terry Leeds |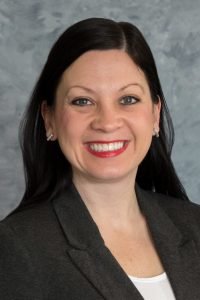 Joni Wickham
Chief of Staff
As chief of staff, Joni leads the Mayor's office and provides counsel to the Mayor on a wide range of topics. She started her career in public service campaigning in the tobacco fields of North Carolina. Joni graduated from Meredith College in North Carolina, before earning her Master's in Political Science from the University of Missouri-Columbia. She has close to two decades of experience in national, state and local politics and an extensive background in strategic communications, public policy and organizational leadership. Her work experience includes serving on the staff of Missouri Secretary of State Robin Carnahan, advocating for working families at the Missouri's Federation of Teachers, and moving the mission of the Missouri Department of Transportation forward by building effective public policy coalitions and community partnerships. She's an advocate for good government, empowering women in leadership and her husband's band. Whether it's advancing the mayor's agenda, raising a 4-year-old daughter, or keeping tabs on a new pup she brought home from the city's animal shelter – Joni's plate is always full.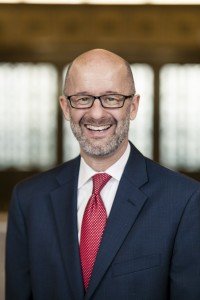 Jim Giles
Director of Council & Community Relations
As Mayor James' most tenured City Hall staff member, Jim serves a critical role as the Mayor's liaison to the City Council and the community. Jim has called Kansas City home since 1981. A true hometown supporter, Jim pursued earned two degrees from UMKC: a B.A. in Sociology and a Master's in Public Administration. As an active member of the civic community, Jim's honored to serve on the board of Kansas City Public Television, Treasurer for the Mid-America Gay & Lesbian Chamber of Commerce and the UMKC Chancellor's Advisory Council. He loves talking art, culture, and the future of Kansas City, whether he's walking his dog, Charlie, perusing the Nelson Atkins Sculpture Garden, or chowing down on unlimited bread sticks at Olive Garden.
Larissa Westenkirchner
Director of Administration
A native of Norway, KS–population 45– Larissa keeps the Mayor's office running smoothly in a city 100,000 times larger than her hometown. If the Mayor's office is involved, it's very likely Larissa is behind the scenes coordinating schedules and logistics. Before joining the Mayor's office in 2011, she earned a B.A. and M.A. in political science from Loyola University Chicago and worked in the legal field at in Chicago and later at Polsinelli Shughart in KC. This Northlander finds peace roaming the halls of the Nelson-Atkins Museum of Art, or the aisles of Target.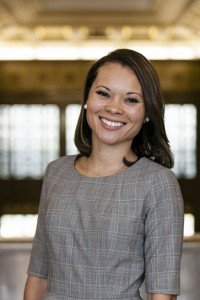 McClain Bryant
Director of Policy
McClain leads the policy team, championing data-driven policies that work to advance equity in hiring, training, development and digital connectivity. She joined the Mayor's team as in 2014, after starting her political career volunteering for Freedom, Inc., as a child. She attended Florida A&M University earning both her B.A and M.B.A. For good measure, she earned her J.D. from George Washington University School of Law. When she's not attending meetings or hammering out innovative policies, she's enjoying the culture the city has to offer, live music with her husband, or shopping at Cargo Largo.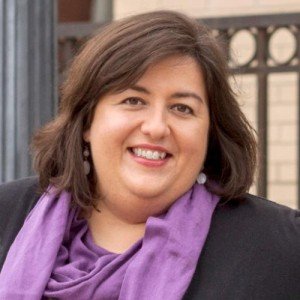 Laura Swinford
Director of Communications
Laura serves as as Communications Director. Previously, she worked as communications director for We Are Missouri, the campaign to repeal so-called "Right to Work," and communications director for Secretary of State Jason Kander and Executive Director of Progress Missouri. She has extensive experience in media relations, communications strategy and politics.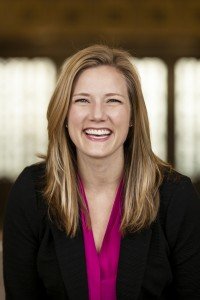 Julie Holland
Education Advisor
Since joining the Mayor's office, Julie has championed a number of education projects, including but certainly not limited to Talk, Read, Play campaign expansion, When Work Works award expansion, Student Mobility Summit and much more. She earned her B.S. from Oklahoma State University, M.P.A. from Syracuse University and PhD in law in policy from Northeastern University. She's also worked at the Kauffman School, the Kauffman Foundation, the Make-A-Wish Foundation® of Central New York, and congressional offices in Oklahoma and Washington, D.C. As an Army brat who's moved 20 times to locations in the U.S. and abroad, she's proud to call Kansas City home and the place she's lived the longest. Julie and her husband live sleep-deprived with their two young sons and dog, Bo, in Waldo.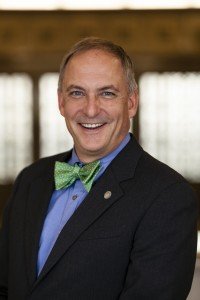 Bob Bennett
Chief Innovation Officer
Bob's role in the Mayor's office is to find solutions to help the city run efficiently and effectively. As a West Point grad with degrees ranging from systems engineering to public communications, Bob is a natural problem solver. He's also the proud father of a Cub Scout and a third-generation, die-hard Cubs fan. When he isn't busy teaching his teens how to drive, Bob's helping his wife with her business or enjoying a show at Starlight Theater.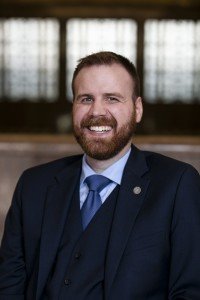 Robert French
Special Assistant for Operations
Robert began working for the Mayor as an intern in the Office of Innovation, working on Smart City initiatives, before taking a position in the Mayor's office for constituent services. Currently, Robert assists with the management of the City's boards and commissions appointments. Robert's passion for politics and government began in high school, where he was a member of Truman High School's speech and debate team, focusing on U.S. policies and international relations. He went on to to graduate, cum laude, from the University of Missouri–Kansas City with a B.A. in communication studies and a minor in political science. When Robert's not in the office, you can find him spending time with his friends, attending a Chiefs' game, or researching judicial elections.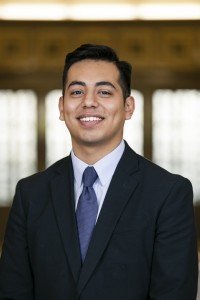 Juan Ramiro Sarmiento
Special Assistant for Strategic Initiatives
Juan serves on the policy team, specializing in various topics including transportation, infrastructure, public safety, public health and youth programming. A proud Jayhawk, Juan graduated from the University of Kansas with a degree in political science and international studies. While in college Juan participated in the prestigious Congressional Hispanic Caucus Institute and interned for Congressman Emanuel Cleaver. A major history buff, Juan has a deep interest in foreign policy, a love for WWI documentaries and is a collector of maps and globes.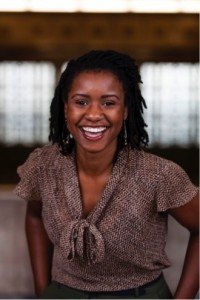 Sandy Thornhill
Administrative Assistant
Sandy plays an essential role in maintaining constituent relations. Whether it's connecting constituents to helpful resources or answering questions, Sandy makes sure our constituents' needs are met. The self-proclaimed Goddess of All Thrift (a.k.a. the G.O.A.T.) is a graduate of University of Missouri-Kansas City with a B.A. in Sociology and M.P.A. The owner of an extensive rock, plant and sea shell collection. Sandy enjoys hanging out on her porch in Midtown.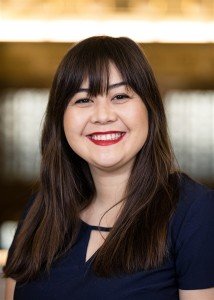 Jessica Ann
Special Assistant for Communications
Jessica serves on the communications team, helping the Mayor to convey his vision and goals for the city. After earning her B.S.F.S. in International Political Economy at Georgetown University, Jessica twisted arms and emptied wallets as a fundraiser for Kansas City Public Television and 90.9 The Bridge. As a proud alumna of the CIty's Bright Futures Internship program and a Big Sister, she's a true believer in the power of youth engagement. She's a lover of dogs, breakfast, dim sum, comedy and Kansas City.
Staff photography by Audri Guyer of Adri Guyer Photography.

Blue Ribbon Commission on Ethics Reform
Andrea Bough, Chair
Brian D. Ellison
Barbara Glesner Fines
Chris Lester
Robert Patrick
Leo Prieto
Citizens' Commission on Municipal Revenue
Stanton, Susan, Chair
Rev. Thomas Curran
Steve Glorioso
Kathy Hauser
Tim Kristl
Greg Lever
Merley McMurry
Brent Never
Wayne Powell
Janette Prenger
Jim Rice
Jim Stacey
Reginald Thomas
Donna Wilson Peters
Peter Yelorda
Mayors Task Force for the Arts
Mike Burke, Chair
Sean Kelley
Pat JordanJay Tomlinson
Airick L. West
Greg Carroll
Bill Dietrich
Jan Marcason
David Oliver
Jane Chu
Dawn Taylor
John Fierro
Julia Cole
Rick Hughes
Peter deSilva
Suzie Aron
Peter Witte
Tom Bean
Harlan Brownlee
Porter Arneill
Bob Langenkamp
Andrew Clarke
Mark McHenry
Tom Coyle
Eric Bosch
Thalia Cherry
Commission on Violent Crime
Stacey Daniels-Young, Chair
Charles Atwell
Richard Bryant
Williams Dowdell
Rubie Ellis
C. Stan Henry
Rodney Knott
Lora McDonald
Rose McLarney
Rev. John Miles
Charles Morgan
Jalilah Otto
Rachel Riley
Angela Torres
Dawana Wade
Marjorie Williams
Mayor's Bistate Innovations Team
Mikes Burke, Chair
Jase Wilson
Alejandra Couchonnal McManus
Chris Carroll
Sandra Lawrence
Anthony Magliano
Project Rise Advisory Committee
JoAnn Gabbert
Patrick "Duke" Dujakovich
Andres Dominguez
Erika Brice
Nancy Seelen
Allison Bergman
Linda Winter
Kevin Kelly
Tracy McFerrin Foster
Parks and Recreation Board of Commissioners
Jean-Paul Chaurand, Chair
Aimee Gromowsky
McClain Bryant
David Mecklenburg
Allen Dillingham
Land Clearance for Redevelopment Authority
Michael Duffy , Chair
James White
Steven Hamilton
JoAnne Fox Rahtjen
Gabriel Okafor
Public Improvement Advisory Committee
Deb Hermann, Chair
Tax Increment Financing Commission
Ronald Yaffe, Chair
Rhonda Holman
Philip Glynn
Estella Morales
Kelley Martin
Barrett Hatches
Mayor Pro Tem – Scott Wagner
Committees
Finance and Governance
Councilman Scott Wagner, Chair
Councilwoman Jolie Justus, Vice Chair
Councilman Lee Barnes
Councilman Kevin McManus
Planning, Zoning and Economic Development
Councilman Scott Taylor, Chair
Councilman Less Barnes, Vice Chair
Councilwoman Heather Hall
Councilman Quinton Lucas
Councilwoman Katheryn Shields
Transportation and Infrastructure
Councilman Jermaine Reed, Chair
Councilman Kevin McManus, Vice Chair
Councilwoman Jolie Justus
Councilman Quinton Lucas
Councilman Dan Fowler
Neighborhoods and Public Safety
Councilwoman Alissia Canady, Chair
Councilman Katherine Sheilds, Vice Chair
Councilwoman Heather Hall
Councilman Quinton Lucas
Housing
Councilman Quinton Lucas, Chair
Councilman Dan Fowler, Vice Chair
Councilman Scott Wagner
Councilwoman Alissia Canady
Councilman Teresa Loar

Legislative
Councilwoman Jolie Justus, Co-Chair
Councilman Kevin McManus, Co-Chair
Councilwoman Katheryn Shields
Mayor Sylvester James, Jr.
Councilwoman Teresa Loar

Youth Development
Mayor Sylvester James, Jr., Chair
Councilwoman Katheryn Shields, Vice Chair
Councilwoman Heather Hall
Councilman Lee Barnes, Jr.
Airport
Councilwoman Jolie Justus, Chair
Councilman Dan Fowler, Vice Chair
Councilwoman Teresa Loar
Councilman Quinton Lucas
Finance and Governance
Councilman Scott Wagner, Chair
Councilwoman Jolie Justus, Vice Chair
Councilman Lee Barnes, Jr.
Councilman Kevin McManus

Small Business, Entrepreneurship and Jobs
Councilwoman Teresa Loar, Chair
Councilwoman Heather Hall, Vice Chair
Councilwoman Alissia Canady
Councilman Scott Taylor
Councilman Jermaine Reed